Shop for the Occasion – Luli Fama Apparel & Accessories
Need an eye-catching look for an upcoming event? Luli Fama is here to help you put together the ideal outfit for any occasion. From vacay getaways to glamorous girls' nights out, our collection includes sexy, stunning pieces that make you feel fabulous and fashionable. Shop our occasions collections to discover inspired ensemble suggestions that include apparel, swimwear, shoes and accessories.
Cruise Into Sensational Style In Luli Fama Resort Wear
Designed for head-turning style in the cabana, on the deck of the yacht or at dinner on the cruise ship, our designer resortwear has everything you need to curate an Instagram-ready vacation wardrobe. From trendy swim cover-ups that keep you warm when there's a chill breeze to delightful dresses that you can sport when you're sipping sangria during cocktail hour, Luli Fama's designer resortwear includes versatile, travel-friendly outfits that'll become vacay staples.
Our cruise and resortwear collections include vibrant, trendy swimwear cover-ups, airy rompers, summer dresses and trendy bottoms that pair perfectly with your bikini tops. Our goal is to design pieces that make getting ready a total breeze, even when you're living out of a suitcase. That means beach/cruisewear that's easy to pack and style plus pieces that are ideal for hot, tropical weather. We also focus on making essentials that emerge from your luggage in great shape so that you can toss them on and hit the beach as soon as you land.
Resortwear with a Tropical Twist
If you're new to Luli Fama, let us tell you a little bit about our story. We're based in Miami, but our founders were born in Cuba, which means that we have a natural knack for designing apparel that's inherently sexy, tropical and vibrant. Our collections are meant to honor the bright colors and cosmopolitan culture of Latin America, so they're guaranteed to get you in the mood for vacationing in the tropics and beyond. Explore all of our resortwear to find pieces that translate with ease from beach to bungalow and pool to patio!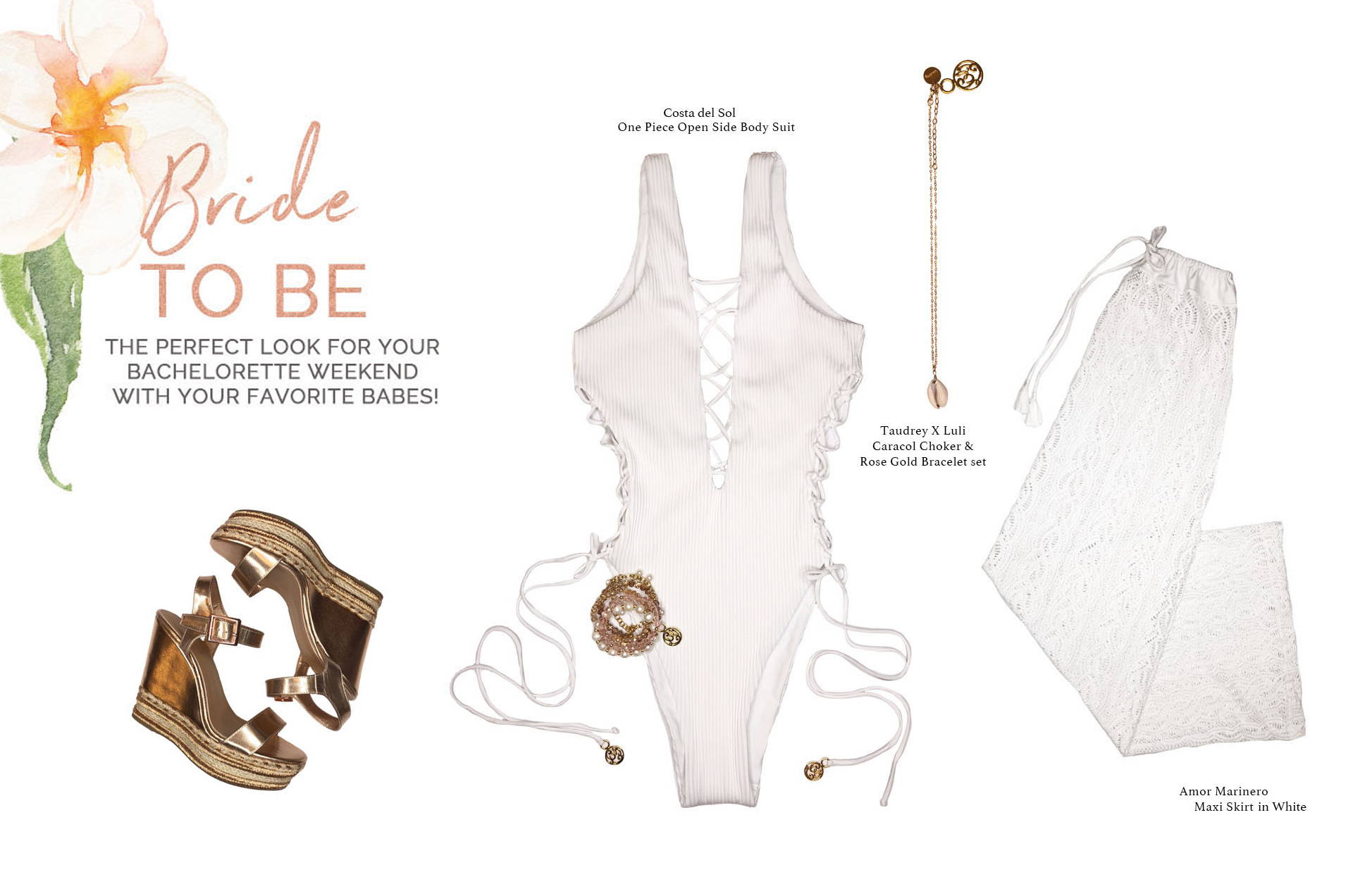 Suit up for a vacay to remember with pieces from the Bride to Be collection at Luli Fama. Whether you want a fashionable and fun outfit for your bachelorette weekend or you're looking for wedding bikinis to wear on your honeymoon, we've got just what you need to get a beautiful bridal look. A white bikini or one-piece captures the excitement of your engagement and helps you stand out when you're lounging poolside. Add elegant accessories with just a hint of sparkle that shimmer in the sun. These gorgeous, feminine outfits help you make the most of your bridal bliss.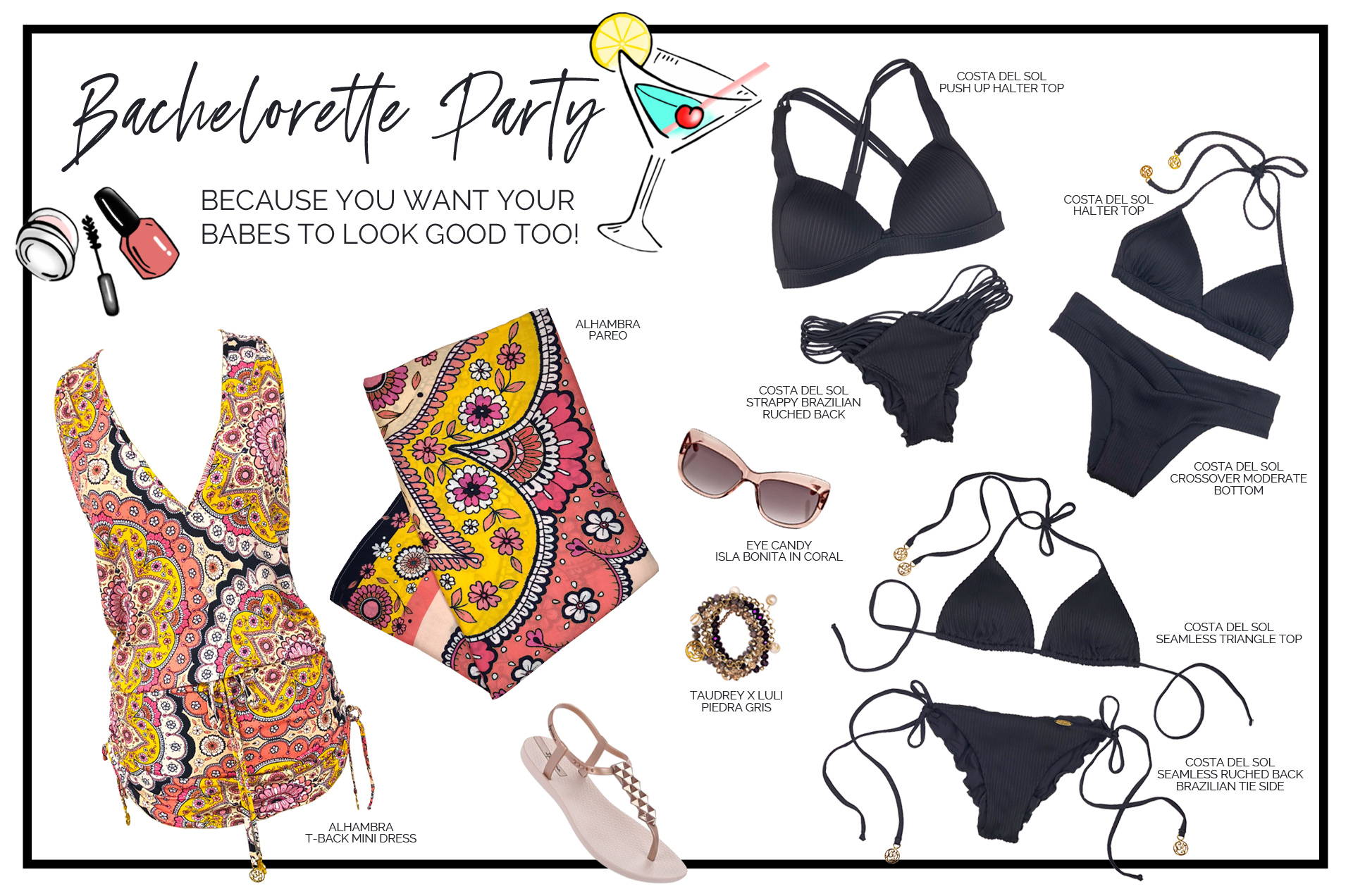 If you're attending a big bachelorette bash in the near future, make sure you stock up on sexy swimwear and accessories from the Luli Fama Bachelorette Party collection. Celebrate the bride-to-be in style with these show-stopping pool party looks. Get the ideal bride squad swimsuit with one of our strappy black bikinis that flatter your figure and let the bride in white take center stage. Add pops of color with vibrant accessories like sunglasses and jewelry. At Luli Fama, we're here to help you get an unbelievably eye-catching head-to-toe look for any beach bachelorette party.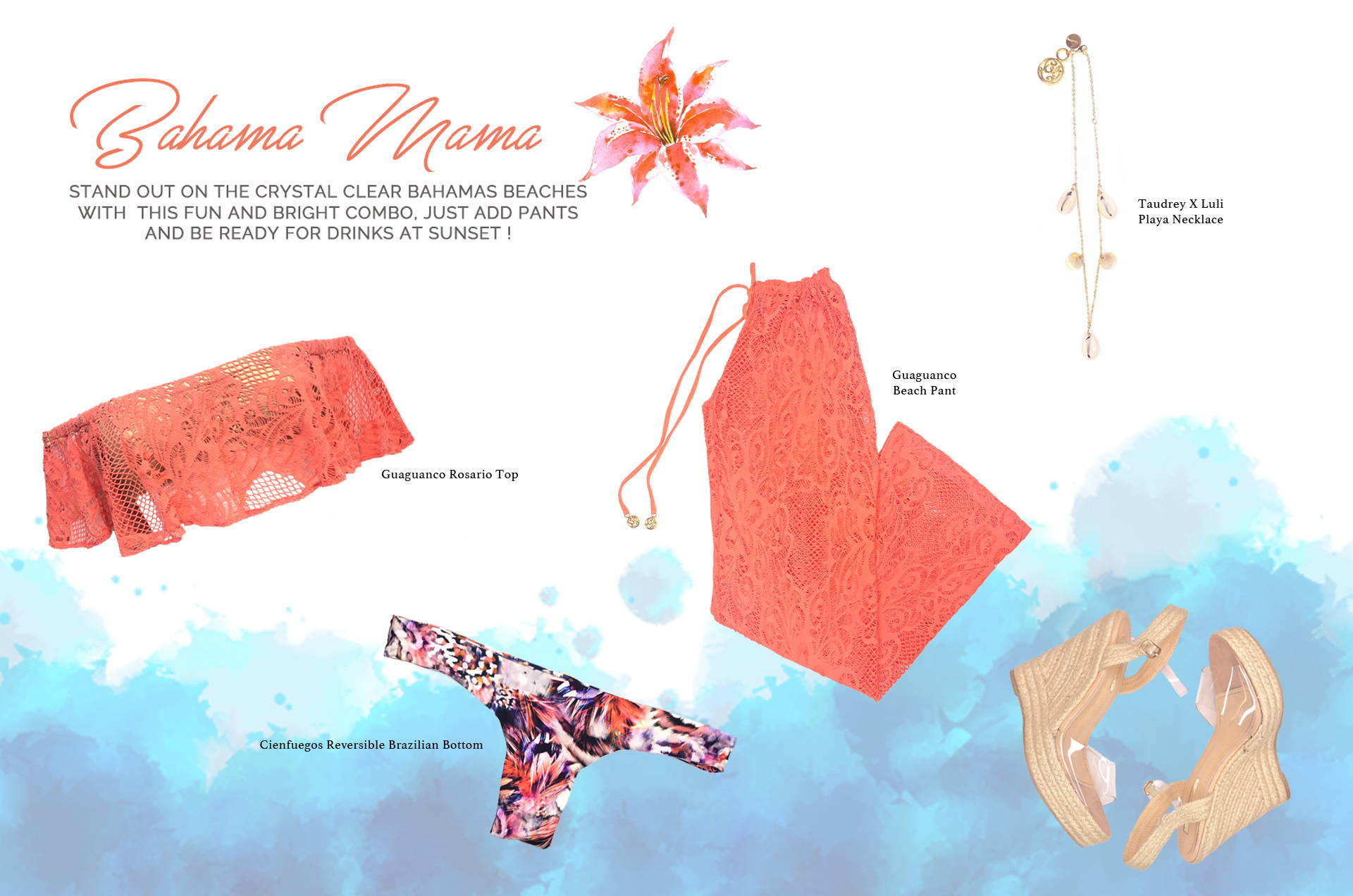 Jet off to a tropical getaway in style with this fun and flirty collection of clothing, swimwear, jewelry and more. Featuring bold, bright colors and subtle gold accents, these Bahamas outfits add a glamorous element to your vacay look. Find sexy swimwear that looks just as alluring as the crystal-clear waters surrounding the islands. Whether you're taking a dip in the ocean or a sip from a fruity frozen cocktail, you'll bring a fresh and fabulous style to any warm-weather getaway when you wear the vibrant colors and distinctive prints in these Luli Fama Bahamas vacation outfits.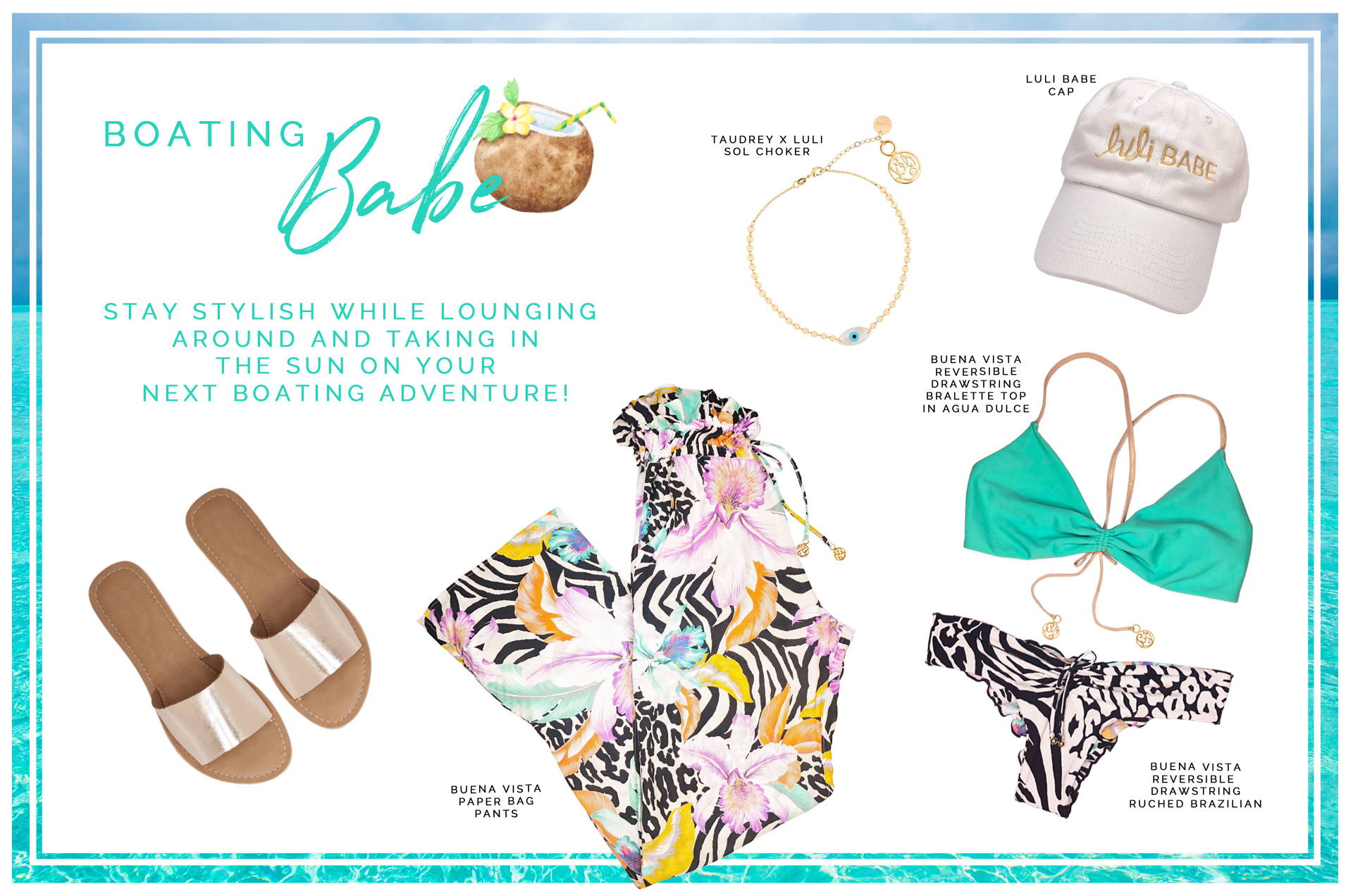 Make your next nautical adventure unforgettable with unique outfits from the Boating Babe collection at Luli Fama. Set out on the high seas in a series of seriously stunning cruise outfits featuring colorful prints and elegant accessories. Start by stocking up on sexy swimwear pieces that make lounging by the pool a fabulous fashion event. Add a few colorful accessories for trend-setting style in each of your boat outfits. Fun in the sun is more exciting than ever when you have inspired styles from this Luli Fama occasion collection.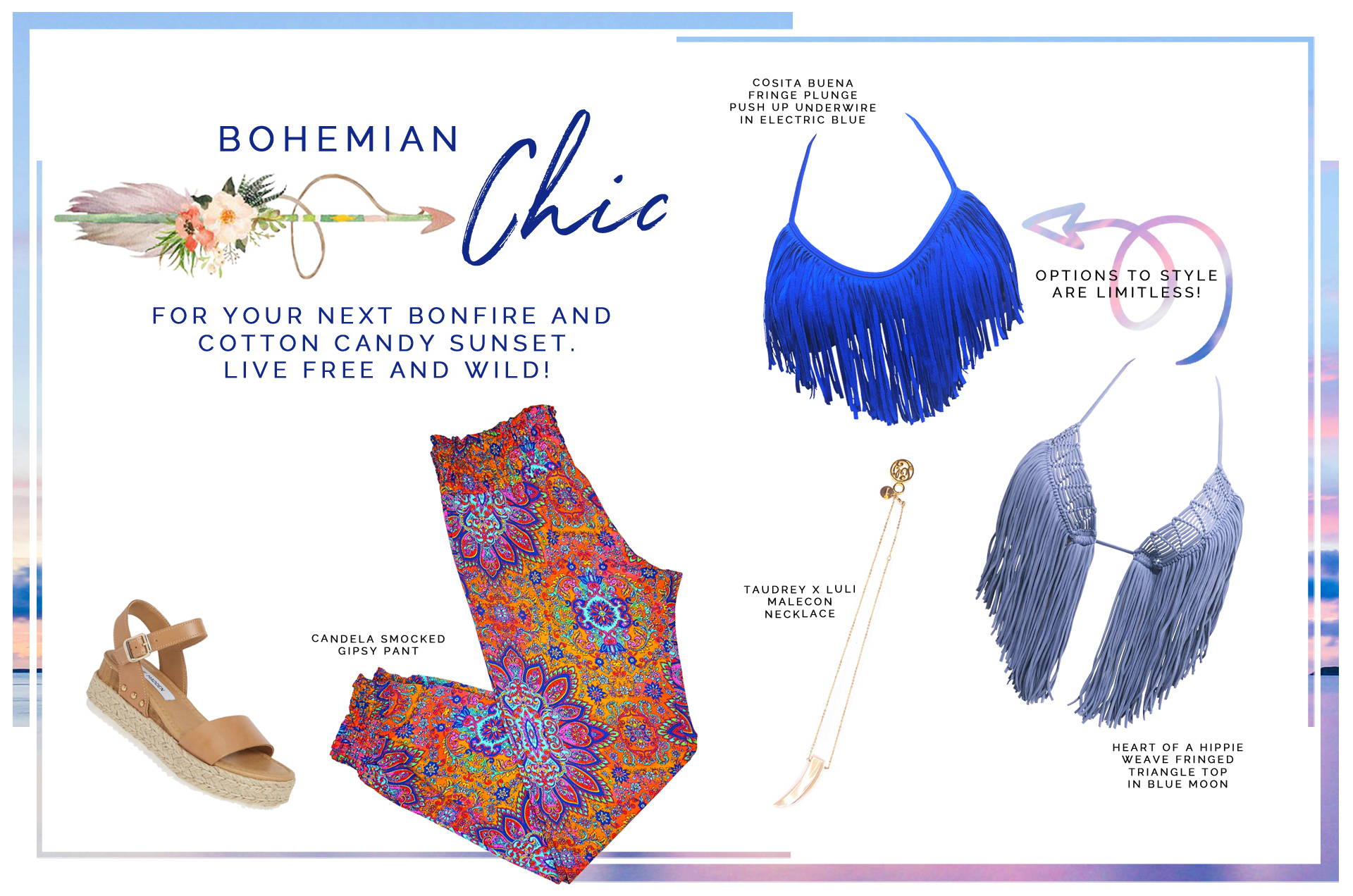 Give your free spirit room to roam with the Bohemian Chic collection at Luli Fama. We have the best selection of boho bikinis, accessories and more. Embrace your wild and free fashion sense with fabulous fringe or feathers on Bohemian coverups and swimwear. Give a cool vintage boost to any outfit with stylish hints of paisley or macramé. Whether you're hitting the hottest music fest of the year or dancing around a bonfire with your besties, you'll nail the boho chic look when you wear apparel and accessories from this curated collection.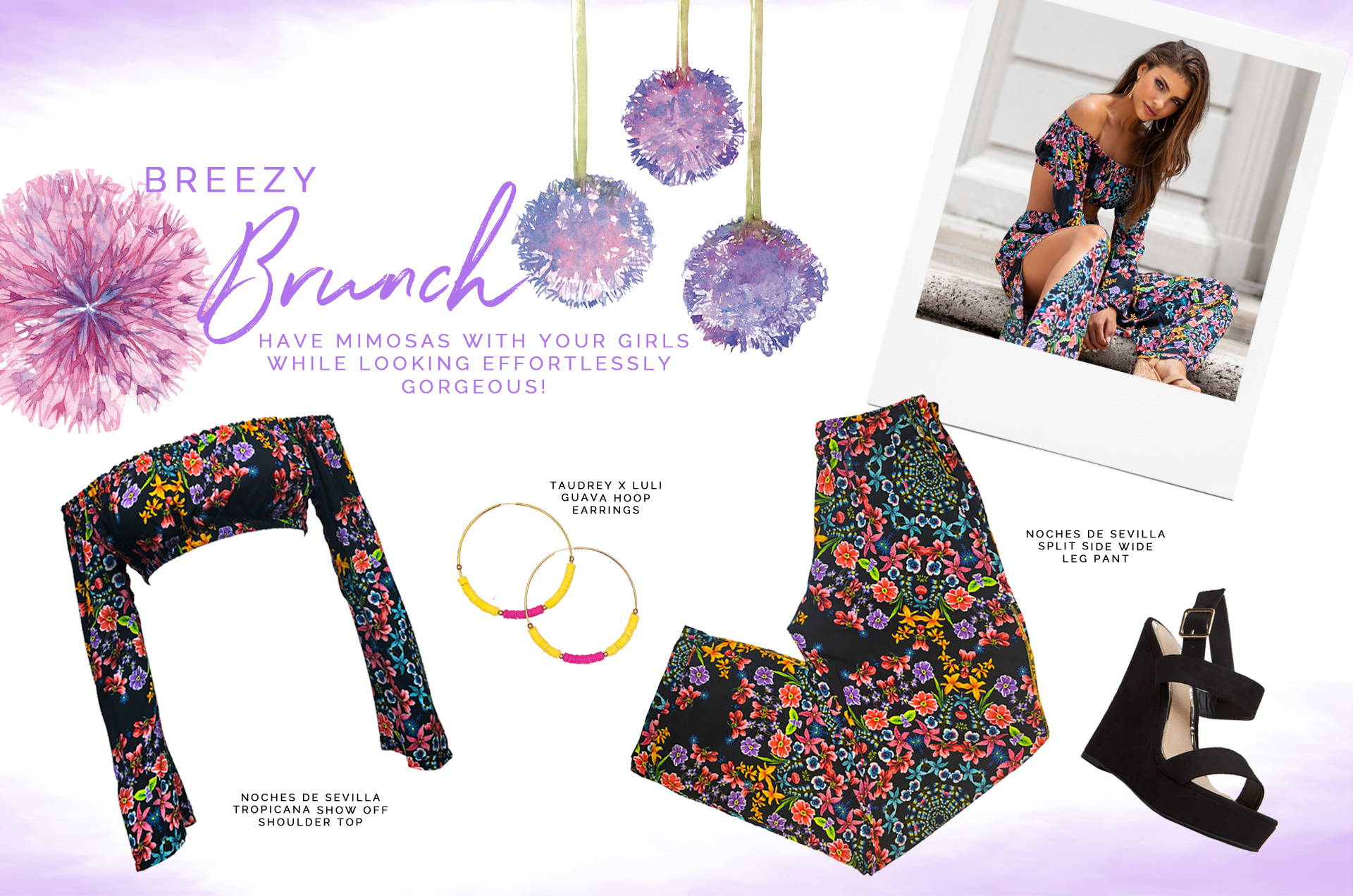 Mix laid-back fashion with just a touch of glam when you shop the Breezy Brunch collection. Our summer brunch outfits give you a fashion-forward yet comfortable ensemble for sipping mimosas with your besties. Fun floral prints are a fave for this occasion since they add a fresh, bright accent and create the look of a tropical outfit. Level up your style by pairing pretty jewelry and a sassy sandal or wedge with your look. Dish about the latest gossip, dine with your girls and delight in the warm weather when you wear a chic brunch outfit from Luli Fama.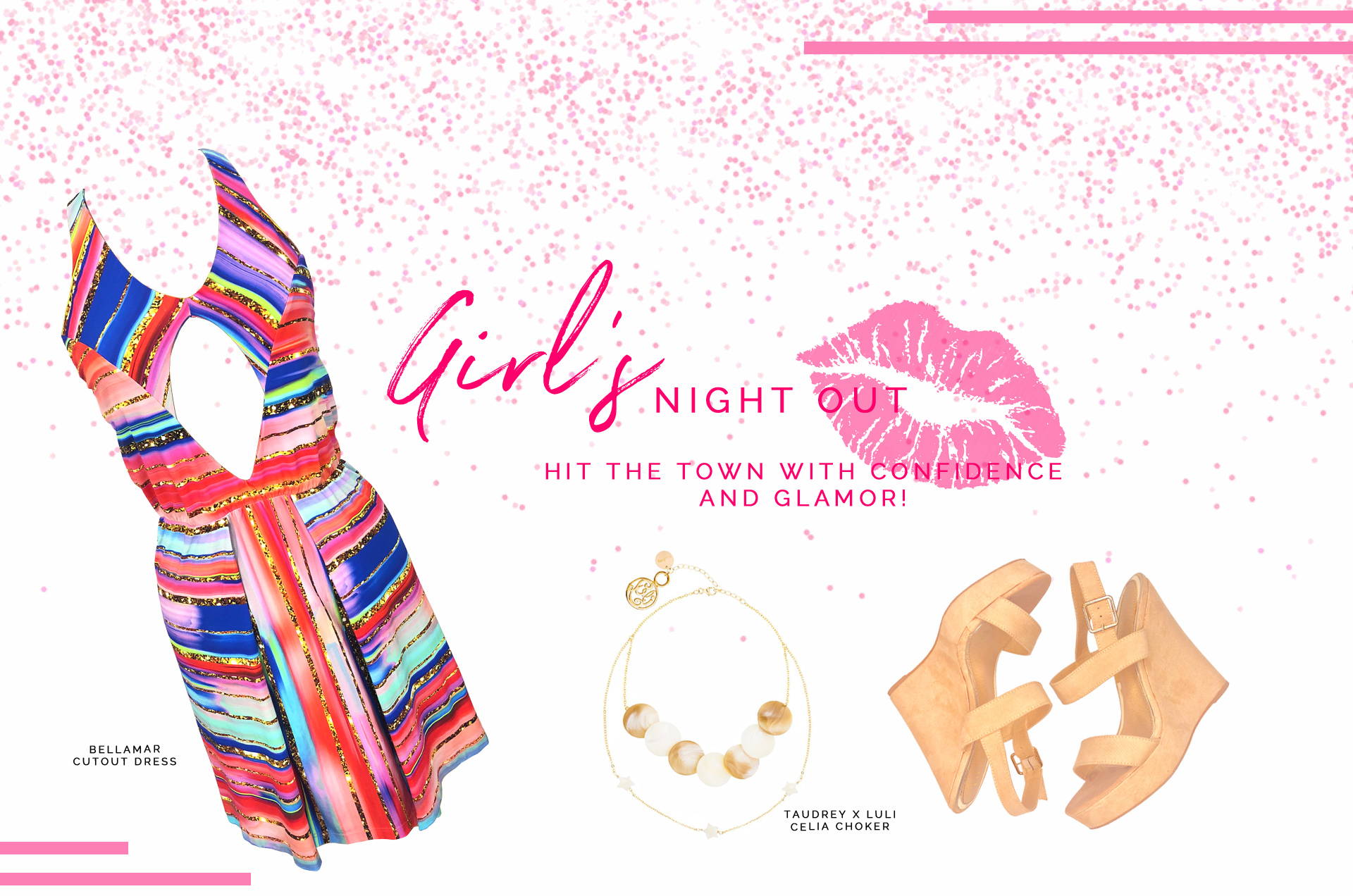 Ready to paint the town red with your best gal pals? Dress to impress in one of our Girl's Night Out ensembles from Luli Fama. We've got all the hottest looks to show off your sexy side when you're dancing the night away. Wear one of our stunning summer going-out dresses for a fabulously flirty look that's sure to turn heads. We also have resort evening dresses that are ideal for creating a glamorous appearance at upscale establishments. Top it all off with shimmering accessories that gleam against your skin to complete your enticing ensemble.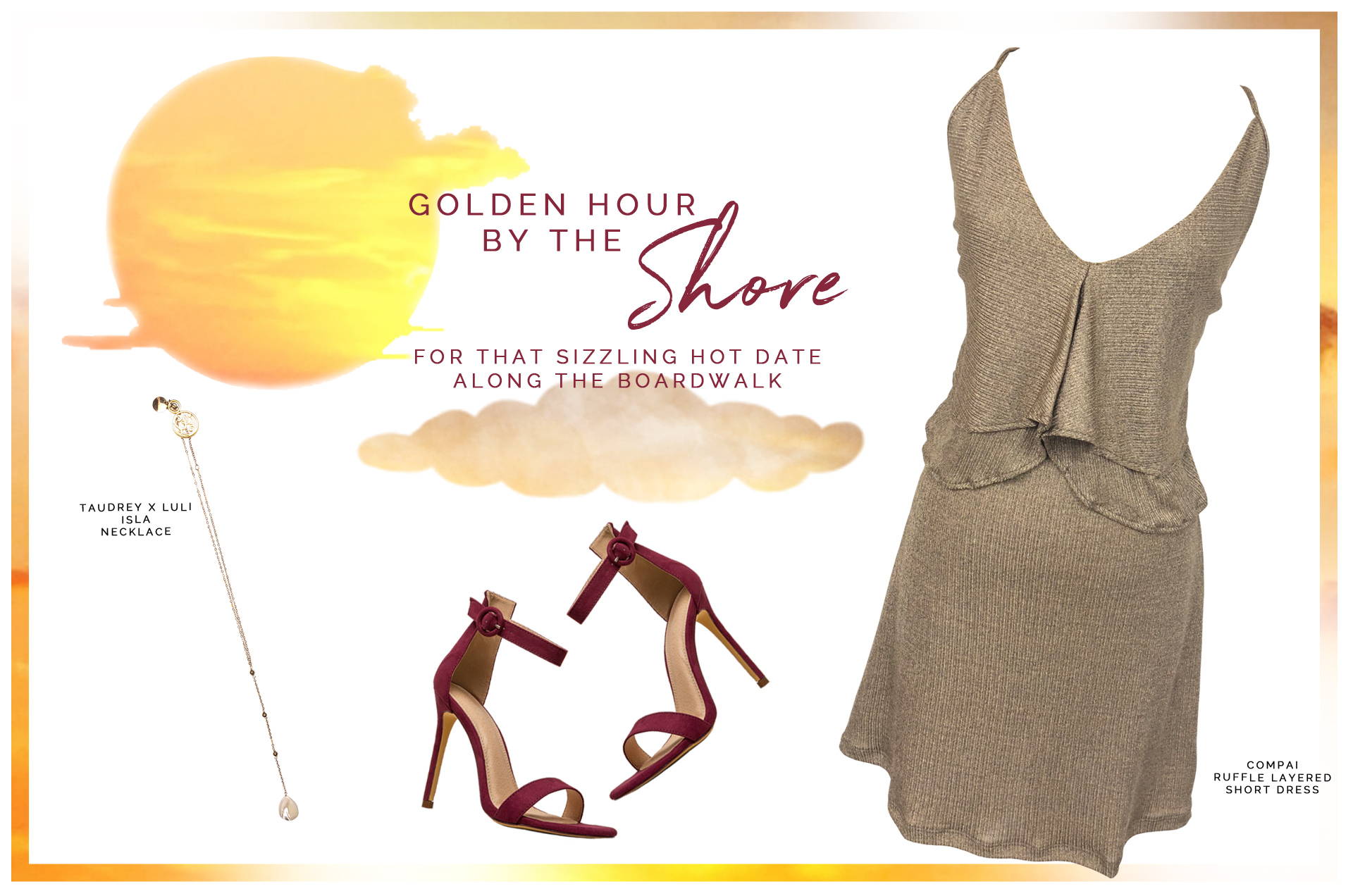 Ready for a romantic walk on the beach? Slip into something from the Golden Hour by the Shore collection to get a stunning look that's perfect for watching the sun set and sipping cocktails by the beach. You'll feel absolutely gorgeous in a figure-flattering resort evening dress and a pair of sexy stilettos. Gold summer dresses are the perfect pick for making the most of the glamorous, glowing atmosphere as the sun goes down. Turn up the romance for your next beach getaway with one of these fabulous looks from Luli Fama.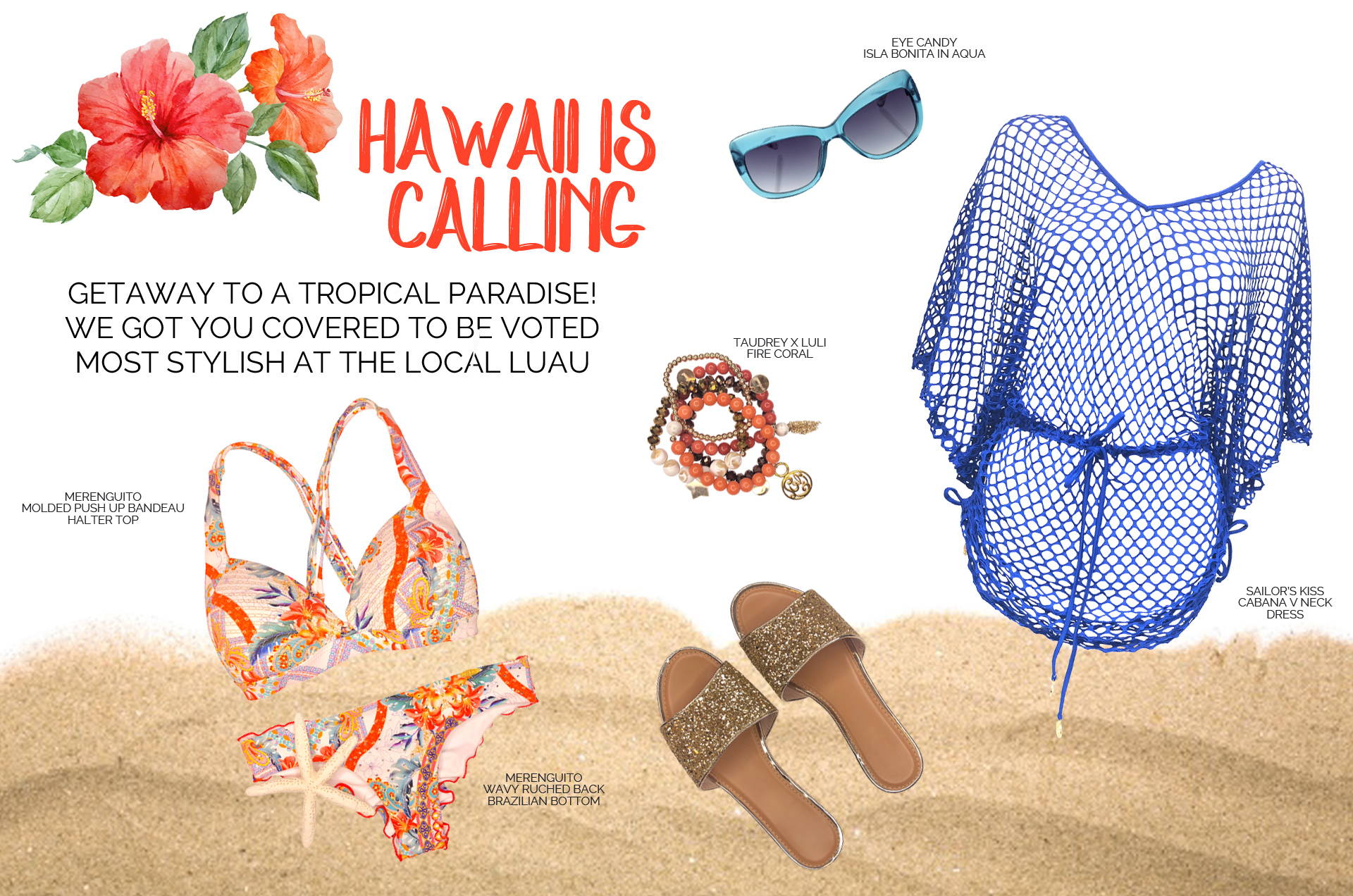 Pull together the perfect Hawaii outfits with the help of Luli Fama. With lush florals and bright colors, this collection is infused with the spirit of the Hawaiian Islands. Saunter along the sand in one of our stunning tropical bikinis featuring a fabulous flower print. Pair it with sparkly sandals, beaded bracelets and a chic coverup to enjoy an ice-cold drink at the beach bar or snag a shaved ice from the snack shop. These inspired ensembles from the Hawaii is Calling collection are excellent options for any beach vacation.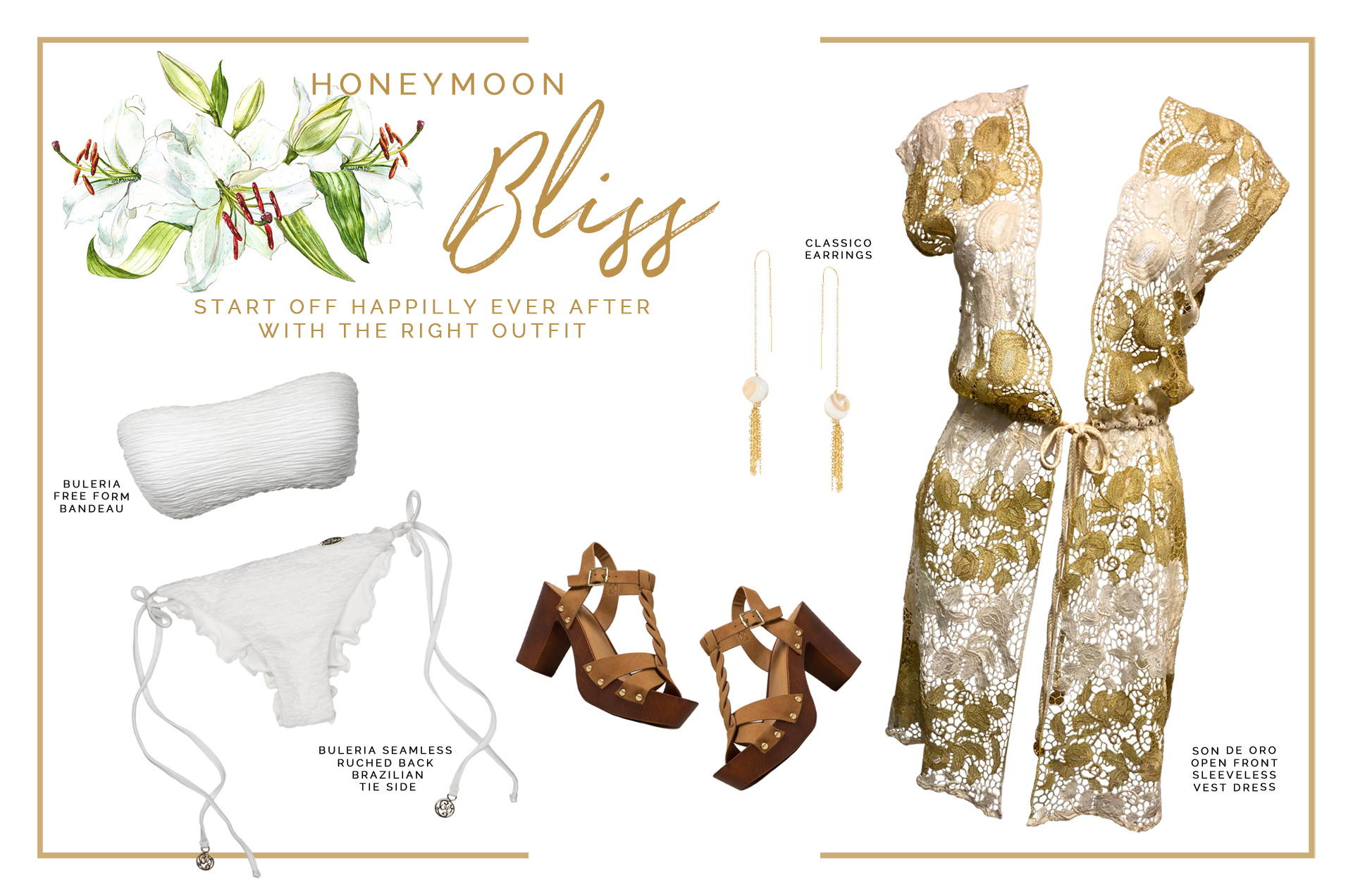 Welcome wedded bliss with the perfect beachwear styles from our Honeymoon Bliss collection at Luli Fama. These gorgeous and glamorous looks are perfect for a newlywed who's ready to kick back and relax with her one true love. Give off some serious bridal vibes in an all-white bikini. Top it off with a stunning coverup for an unforgettable ensemble. In addition to our honeymoon clothes for brides, we have some elegant accessories that add to your stunning post-wedding glow. Make memories to last a lifetime and look sexy and stunning for your new spouse in one of our beach honeymoon outfits.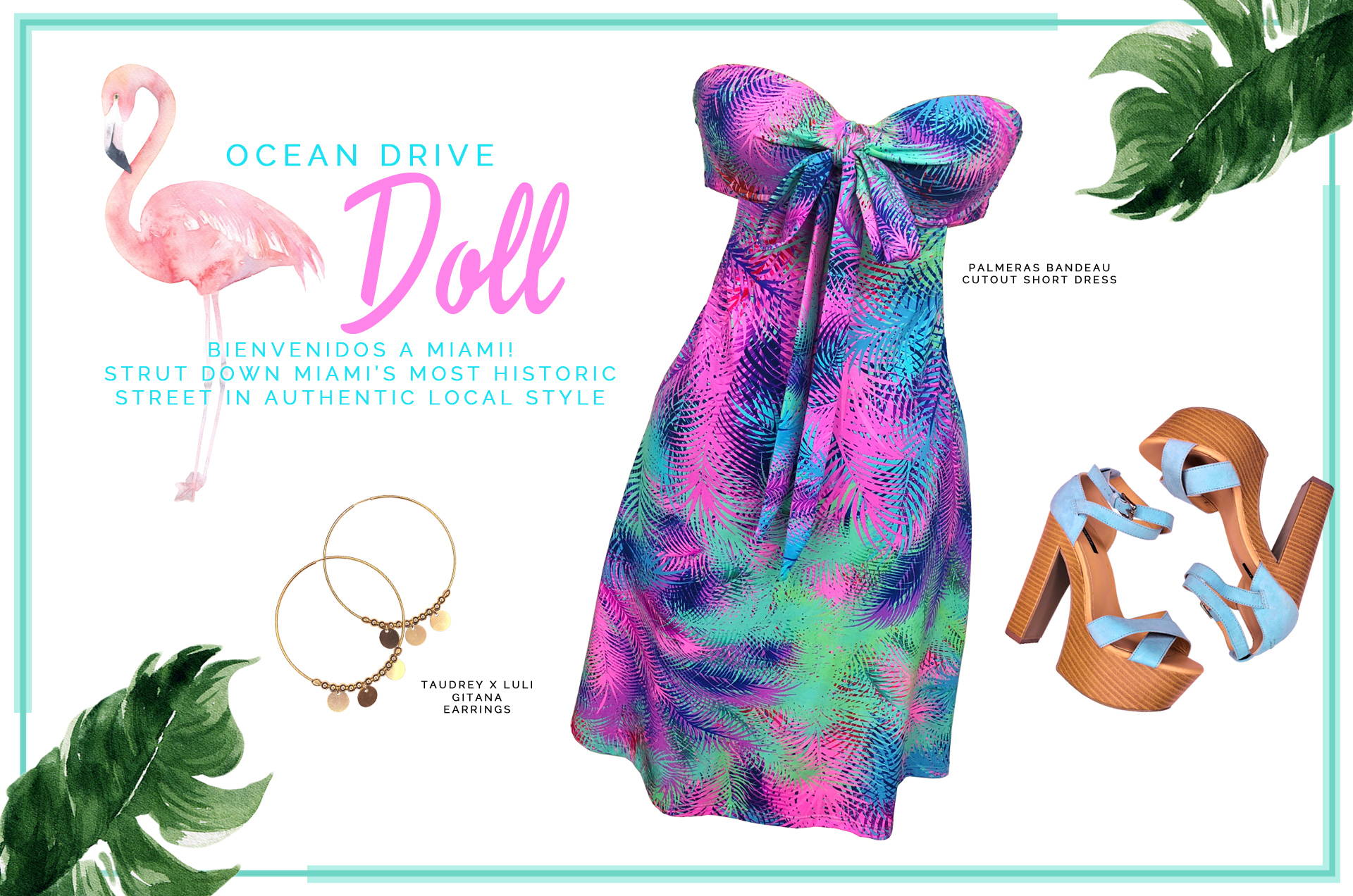 The energy and excitement of Miami's hottest destination is reflected in these looks from the Luli Fama Ocean Drive Doll collection. You'll be ready to take on this city's famously fabulous nightlife scene in one of our stylish Miami vacation outfits. Pair a sexy strapless mini dress with a pair of platform heels to strut your stuff down Ocean Drive in style. Our Miami dresses feature the brightest, boldest prints to help you stand out in this high-fashion locale. Top it off with some glam accessories to add a pop of shine to your nightlife ensemble.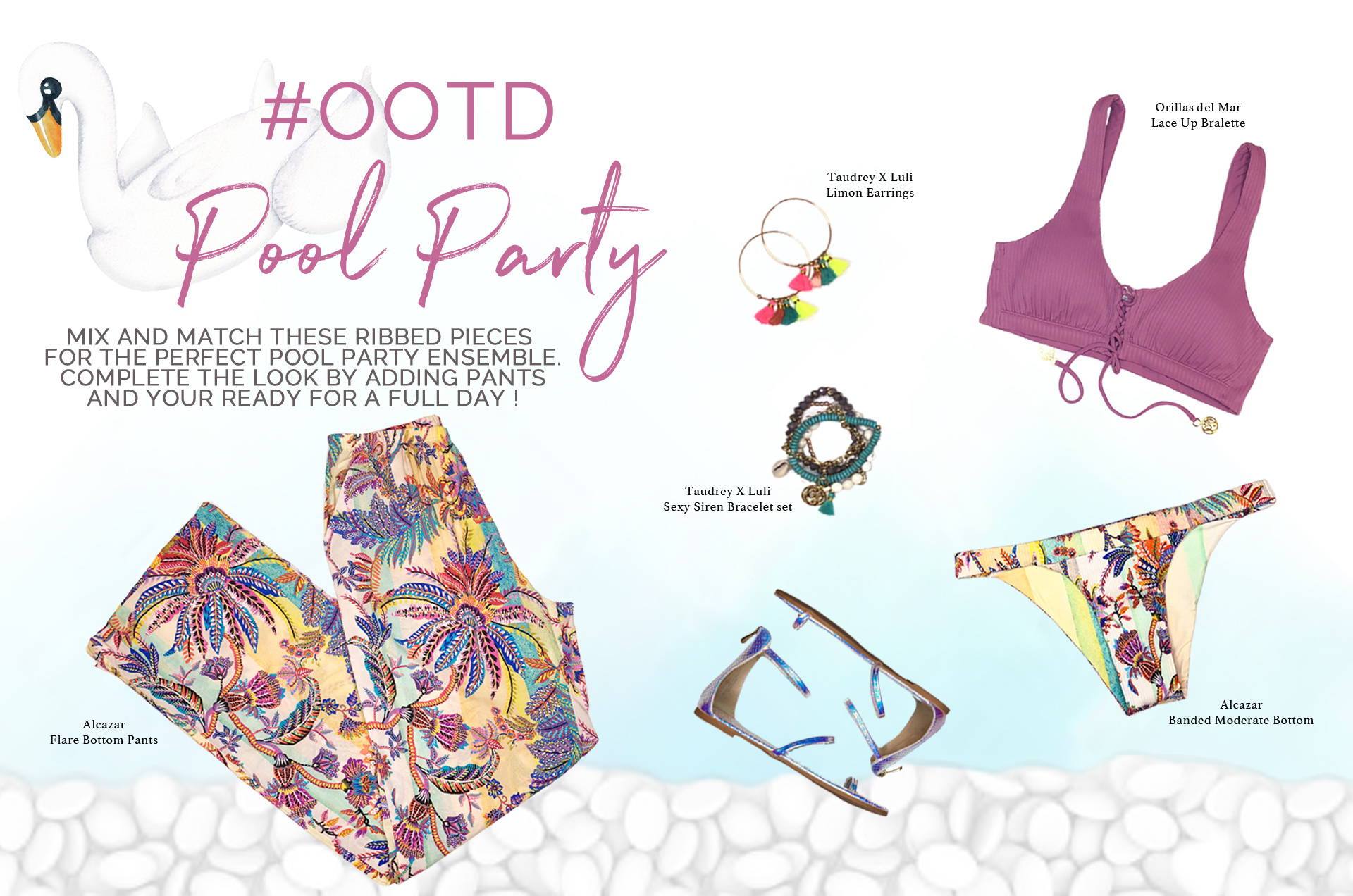 Discover a flirty and flattering pool party outfit when you shop this collection at Luli Fama. Our effortlessly sexy bikinis and one-piece swimwear options give you an amazing summer look that's perfect for lounging poolside or splashing in the water. Sip cocktails without a care in the world in these fashionable and festive party styles. Don't forget to include tassel earrings, shiny sandals and other must-have accessories to round out your beach party outfit. Throw on a pair of our flowy pants and this look seamlessly transitions from daytime pool lounging to casual evening hangouts.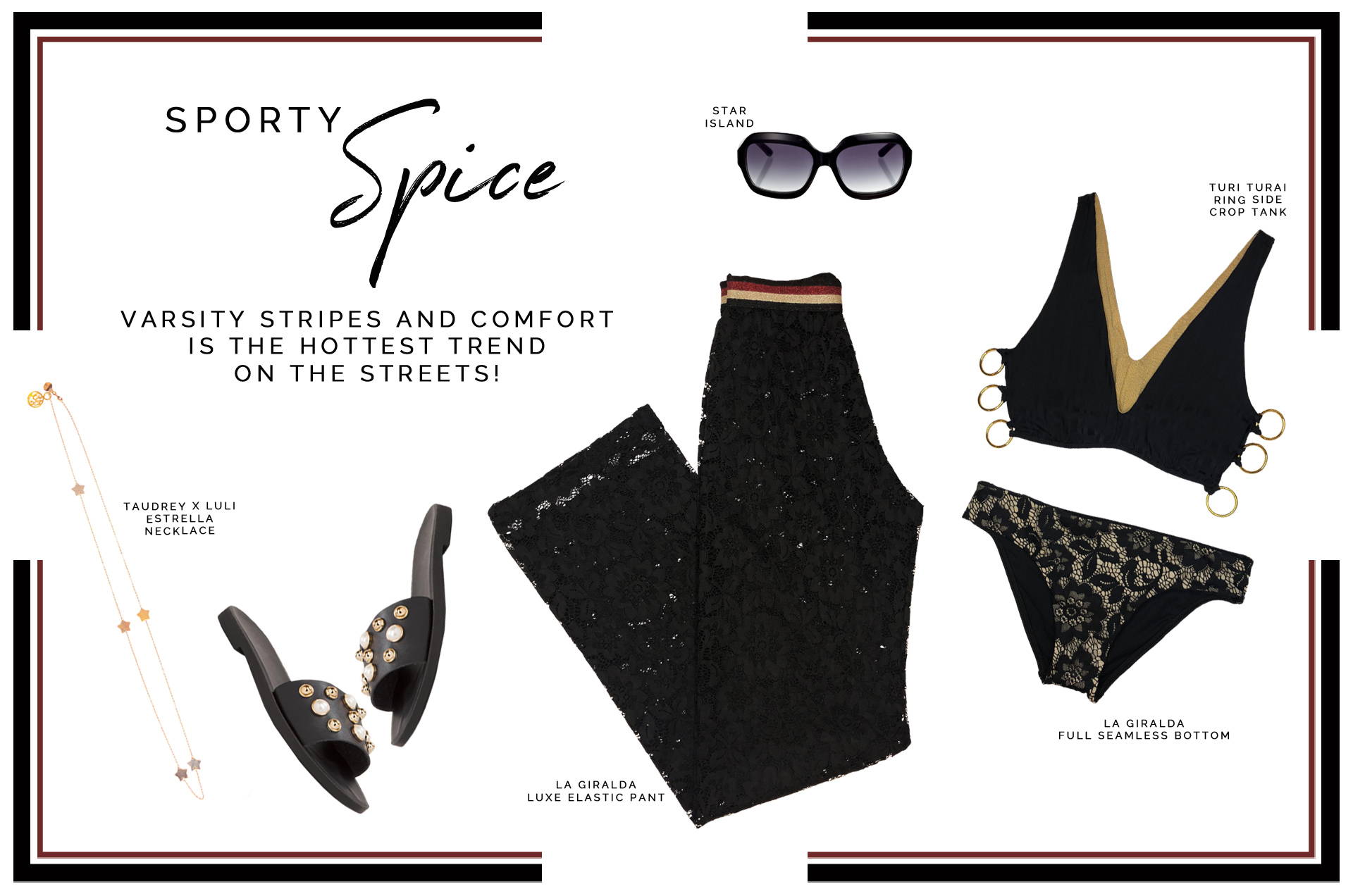 Hit the pool or the beach wearing one of the hottest trends with Luli Fama's Sporty Spice collection. These stylish looks combine comfort with an active and energetic vibe. Slip into this swimwear style and you'll feel ready to take on whatever the day brings. These sporty bikinis are ideal for casually lounging by the pool or enjoying an adventure out on the water. With a few fabulous accessories to round out your designer resort wear ensemble, you'll have a fun, fresh and fierce look that gives you a boost of confidence.
Infuse your look with bright colors and vibrant prints with pieces from Luli Fama's Vamos pa' Cuba collection. These delightfully lively and feminine Cuba outfits are fun for any type of tropical getaway. Roam streets filled with colorful buildings wearing bold statement accessories and a fashionable fringe skirt. Take a dip in the sea or lay out in the sun wearing a gorgeous flutter bikini top and a pair of sexy, strappy bikini bottoms. These distinctive and daring Cuba vacation outfits are perfect for pushing your style to the next level. Get ready for a vacay you'll always remember by stocking up on colorful pieces from this collection.